July 20th 2008: AN ALL STARS TRIBUTE DVD to JOHN NORUM
After the Europe show in Kilafors (Sweden), last Friday night, a tribute double DVD titled "ETERNAL FLAME - AN ALL STARS ROCKUMENTARY TRIBUTED TO JOHN NORUM FOR HIS 30TH CAREER ANNIVERSARY" was delivered to Mr Norum.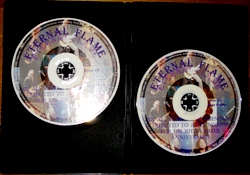 It was realized by 12 Artists and friends of him, in collaboration with the NORUManiacs Planet.
It is a collection of their thoughts and memories, expressed during a videointerview, and the whole work needed 18 months to be done. Speakers have been requested to freely talk about the time spent composing music, rehearsing, touring, performing live with him, and also to express their opinions on his artistic skills.
This work was not intended to be a professional rockumentary and it wasn't planned to be released; it only meant to be a personal tribute to his achievements, and also a friendly way to celebrate his 30th career anniversary, since in 1978 both the single " PUNKJÄVLAR" of the Eddie Meduza and the Roaring Cadillac's band (with John playing an amazing guitar solo), and the recording of "Väsby '78" (the festival in Upplands Väsby joined by John with his band WC) were released.
So, a heartfelt thanks for having worked with genuine enthusiasm and fun at this project goes to:
ARTISTS and FRIENDS (in chronological order):

Marcel Jacob (Bassist)
Peter Erixon (Guitartech)
Nalle Påhlsson (Bassist)
Ian Haugland (Drummer)
Michelle Meldrum (Guitarist)
Michael Amott (Guitarist)
Pontus Norgren (Guitarist and sound Engineer)
Thomas Broman (Drummer)
Glenn Hughes (Singer/Bassist)
Henrik "Hempo" Hildén (Drummer)
Janne Stark (Guitarist/Writer)
Joakim "Jocke Bacon" Kristiansson (Guitartech)

BANDS and TOURMANAGERS (in chronological order):

Talisman (Sweden)
Europe (Sweden)
Meldrum (USA/Sweden)
Arch Enemy (Sweden)
Michael Schenker & Friends (Germany/Sweden)
Glenn Hughes (UK/USA)
Hempoland (Sweden)

Many thanks also to the great small bunch of madpeople that worked behind the scene.
And last but not least, a very special thanks to Mr John Norum, ETERNAL FLAME of inspiration
for Musicians, music lovers and dreaming souls.
GRATTIS, GUITAR HERO!